Yamataka Teaching at the Sakya Institute of Vajrayana - November 2011
An extensive 10 day Yamataka teaching was held at the Sakya Institute of Vajrayana for over 100 monks and a small group of foreign students. H.E Luding Khenpo gave a full reading of the entire teachings in the mornings with an English translation, while H.E Luding Khenchen gave an extensive explanation on the entire teachings in the afternoons. H.E Luding Khenpo gave the respective empowerments. It was a very special teaching and all students felt especially blessed as receiving teachings and empowerments H.E Luding Khenchen is a very rare and precious occasion.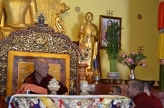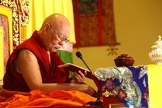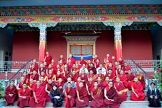 The Commemoration of the 50th Anniversary of Sa Ngor Choetsok, Sikkim - October 2011
His Holiness the Sakya Trizin and His Eminence Luding Khenchen travelled to Sikkim in October 2011 to commemorate the 50th anniversary of the very first Sakya monastery to be established outside of Tibet. The occasion was joyous as His Holiness and His Eminence seldom travel to Sikkim, however they made a special effort to attend the Sikkim monastery event. A Vairocana Fire Puja was performed and dedicated to those affected by the earthquake in Sikkim.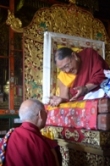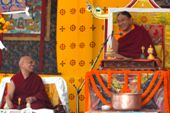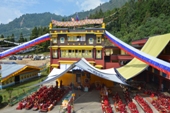 Bodhgaya Pilgrimage - March 2011
Early March 2011 H.E Luding Khenchen and H.E Luding Khenpo, with entourage including H.E Luding Khenpo's niece, Sonam Paldren, travelled to Bodhgaya for 15 days, which coincided with Losar (Tibetan New Year) to conduct prayers for world peace. The pilgrimage was conducted for all those affected by the catastrophic events around the world, such as the earthquake in Eastern Tibet, the Ladakh flood in Leh, the tsunami in Japan and all other natural disasters. The pilgrimage was performed with the wish of fulfilling the aspiration of world peace for all sentient beings.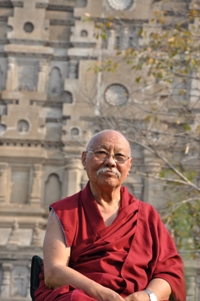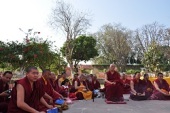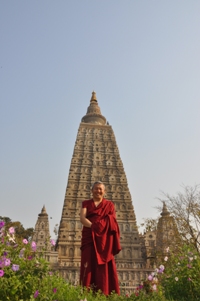 Travel - Mid 2011
Rinpoche travelled extensively throughout the Asia-Pacific region in 2011 giving teachings and empowerments and performed ritual ceremonies in Singapore, Malaysia and Taiwan. Rinpoche was satisfied with his efforts and all students felt fulfilled.
Collection of Sadhanas - December 2010
In December 2010 to February 2011 H.E Luding Khenpo gave teachings on the Collection of Sadhanas as well as all of the respective empowerments to over 600 Monks and lay practioners at Ngor Monastery, Manduwala India.