News & Events
His Eminence Luding Khen Chen's eye surgery, November 2014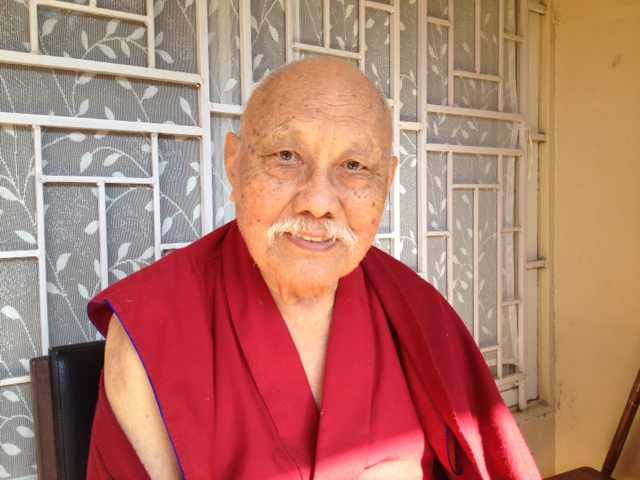 On the 29 November, HE Luding Khenchen with entourage travelled to Delhi private hospital where His Eminence had a cataract procedure to both eyes. The result was most successful with a good recovery. We are so blessed that His Eminence is looking so radiant after the Delhi visit and is back comfortably at Luding Lhadrung. We continue to pray for His Eminence's excellent health and longevity.
His Eminence Luding Khen Chen's 85th birthday celebrations, November 2014
On the fourteenth day of the ninth month of the Tibetan lunar calendar, His Eminence Luding Khen Chen celebrated his 85th birthday. This most auspicious day coincided with the anniversaries of the great Sakyapa masters Bari Lotsawa, Khon Konchok Gyalpo (the first Sakya Trizin) Sachen Kunga Nyingpo and Gonpo Sonam Cholden.
To celebrate and commemorate the auspiciousness of this day Ngor Monastery made great offerings of lights and the Sakya Institute of Vajrayana (SIV) performed a White Tara Long Life Puja lead by HE Thartse Khen, HE Khangsar Shabdung, Khenpo Konchok Gyaltsen and Khenpo Palden Zangpo (the two SIV Khenpos).
The puja was also attended by HE Ratna Vajra Dungsay Rinpoche, HE Dungsay Gyana Vajra, HE Dungsay Asanga Vajra, Dungsay Siddharth Vajra and Jetsunma Tsejin Lhamo (Holy precious children of HE Dungsay Gyana Vajra), HE Luding Khenpo, Luding Shabdung, all the Monks from SIV and Ngor Monastery as well as Nuns, the Tibetan Lingtsang lay community and a group of foreign lay devotees.
May HE Luding Khen Chen live long and continue to benefit countless beings.
Annual seven-day Chakrasambhava Krisna Pa Puja, Ngor Monastery, October - November 2014
HE Luding Khenpo presided over the seven-day traditional annual Chakrasambhava Krisna Pa Puja with all the monks at Ngor Monastery. The puja commenced on 30 October and concluded on 5 November 2014.
The Chakrasambhava Krisna Pa Puja is performed to dispel obstacles and to ensure the excellent health of practitioners on the path to enlightenment.
His Eminence Luding Khenpo travels to Ladakh Matho (Mangtro) Monastery, October 2014
HE Luding Khenpo and entourage left for Ladakh on 4 October for Matho Gonpa. The first photo is a wall painting portrait of the great Lotsawa Rinchen Sangpo.
Some photos taken by His Eminence are included of Sengey Khabhab (Indus River) as well as the breathtaking landscape on the way to Alchi, Ladakh, Matho Gonpa.
Rinpoche safely returned to Ngor Monastery, India on 14 October.
Conclusion of Summer Retreat for SIV and Ngor Monastery, 28 September 2014
On 28 September the Summer Retreat concluded at the Sakya Institute of Vajrayana (SIV) and Ngor Monastery. The two SIV Khenpos together with all of the Monks were awarded with social activities and enjoyed challenges in light hearted games where the winners received prizes for their efforts from Rinpoche.
Vajrakilaya Empowerment, Sakya Centre Rajpur, 16 September 2014
On 16 September 2014, His Eminence Luding Khenchen and Luding Shabdrung together with the Khenpos and Monks of the Sakya Institute of Vajrayana and Ngor Monastery attended the Vajrakilaya Empowerment at the Sakya Centre, Rajpur, which was conducted by His Holiness the Sakya Trizin.
The Empowerment was also attended by Dungsay Ratna Vajra, Dungsay Avikrita Vajra, His Eminence Asanga Rinpoche as well as both the monastic and lay community.
HE Luding Khenpo attends Genlak Khenchen Rinchen Senge's Parinirvana, Taiwan, September 2014
On 11 September 2014, HE Luding Khenpo, who had recently concluded his extensive visit to Kham, together with Lama Tenpa and Jamyang Kunga, immediately departed for Taipei to attend the Mahavairocana pujas for the Parinirvana of Khenchen Rinchen Senge who was His Eminence's tutor (Genlak). Lama Khenchen Rinchen Senge was also the resident teacher at Sakya E-Wam Tsechen Choeling, Taiwan.
The 49-day Mahavairocana pujas took place at Sakya E-Wam Tsechen Choeling, Taiwan, Ngor Monastery, India as well as Qinghai. Rinpoche's tireless activities to benefit sentient beings in Kham as well as to assist his tutor to enter Parinirvana portray Rinpoche's boundless compassion as well as his profound devotion to his Genlak.
HE Luding Khenpo travels to Tibet, July to August 2014
In mid July 2014, His Eminence Luding Khenpo, Lama Tenpa and entourage travelled to Tibet.
On 24 July His Eminence presided over the grand opening of the Gonchen Institute, Dama Do Dege, Sichuan (the Shedra philosophy Institute at Dharma Valley of Gonchen).
His Eminence then travelled to Ling, Gon Zig Gonpa, where the scenery was breathtakingly beautiful. Here, as the water was so pristine, His Eminence took fresh water from the spring and offered it to an open shrine. Four Monasteries came to meet Rinpoche during his short visit to Ling.
On 11 August His Eminence continued on to Gailing Gonpa in Dege and presided over the opening of the Gonpa. Following this visit, Rinpoche gave the Vajrayogini Blessing to the monastic sangha of nuns as well as visiting monks at the Kyegu Ani Gonpa in Pathang, Kham.
His Eminence, while travelling to the remote region of Kham, came across a nomadic community and His Eminence gave them his blessing. This vast and remote nomadic pasture regionis a truly beautiful area of Kham.
His Eminence gave an initiation on 19 August to a gathering of over 40,000 lay and monastic devotees in the Nangchedzong Kham province. While giving the Empowerment His Eminence donned the Sakya Pandita Hat.
On 26 August His Eminence departed from Yushu, Kham. May His Eminence Luding Khenpo's benevolent activities continue to benefit all sentient beings.
HE Luding Khenchen travels to Nepal, July to August 2014
On 27 July 2014 His Eminence Luding Khenchen and attendants travelled to Nepal for the cremation of His Holiness the 14th Gyalwa Shamarpa Mipham Chokyi Lodro, who passed into Parinirvana on 13th June 2014.
On 30 July His Eminence along with other Sakya masters and monks performed the Hevajra ritual for the late 14th Gyalwa Shamarpa Rinpoche in Nepal.
On 2 August, at an invitation wholeheartedly extended by IBA's current abbot Dr Khenpo Ngawang Jorden, His Eminence visited the International Buddhist Academy (IBA) On arrival Dagmo Kalden, Jetsuma Kunga Trinley Palter, Dungsay Akasha Vajra, Khenpo Jorden and many high Lamas and Monks warmly greeted His Eminence.
Upon arrival Dr Khenpo Ngawang Jorden made precious Mandala offerings to his Eminence and later His Eminence blessed the Khenchen Appey stupa and the new Mahakala shrine hall, as well as the new library wing, which was built in the memory of the late venerable Khenpo Migmar Tsering.
On 5 August His Eminence and entourage returned to Ngor Monastery, Manduwala. During this journey, His Eminence performed all his Dharmic activities to benefit and fulfill the wishes of all sentient beings.
Ngor Grand Drub Chod, June 2014
On 20 June 2013, HE Luding Khenpo, HE Thartse Khenpo, HE Kangsar Shabdrung, Khenpo Konchog Gyalsten, Khenpo Palden Zangpo and monks participated in the Grand Drub Chod at Ngor Monastery and the Sakya Institute of Vajrayana (SIV).
At Ngor Monastery, HE Luding Khenpo led the Hevajra Mandala Puja at Ngor Monastery's main shrine hall. Rinpoche drew the Mandala lines and prepared the ground for the creation of the magnificent Hevajra Sand Mandala. Additionally, Genlak Sonam Gyaltso led the Manjushri with Guhyasamaja Mandala Puja in the 1000 Sakya Pandita shrine hall. Both of the Hevajra and Manjushri with Guhyasamaja Pujas were conducted simultaneously.
At SIV, HE Thartse Khenpo led the Vajrapanjara Mandala Puja in the main shrine hall, Khenpo Konchok Gyaltsen led the Samputra Mandala Puja and Khenpo Tsega led the Chakrasamvara Mandala Pujas.
Khenpo Konchok Gyaltsen, head abbott of SIV, led the Samputra Mandala Pujas in the SIV dining hall. Khenpo led the scholar monks in the Pujas and everyone performed grandly with imposing style befitting of an auspicious event.
Khenpo Tsega ( Palden Zangpo ), abbott of SIV, led the Chakrasamvara Mandala Pujas in the SIV library hall. Khenpo led the scholar monks in the Pujas and everyone performed impressively and skillfully befitting to this auspicious event.
HE Thartse Khenpo together with HE Khangsar Shabdrung Rinpoche presided on the Vajrapanjara Mandala Puja at SIV's main shrine hall.
Interview with Khenpo Konchog Gyaltsen, Abbot of SIV, May 2014
Khenpo Konchog Gyaltsen is the Head Abbot of the Sakya Institute of Vajrayana. Within the interview Khenpo describes the importance of SIV specifically with regards to the preservation of the Vajrayana and Sakyapa tradition.
Sakya Institute of Vajrayana (SIV) Asian Teaching Tours, April to May 2014
On 21 April 2014, Sakya Institute of Vajrayana (SIV) Khenpo Kunchog Gyaltsen, with a small group of scholar monks and lama Jamyang Kunga, left Manduwala for a teachins tour of Malaysia and Singapore. Currently all Lamas are in Malaysia visiting the following centres:
- Sibu (Kapit) Sakya Osel Ling Centre
- Sungai Petani Sakya Tengge Ling
- Butterworth Lay Buddist society
- Ipoh Sakya Centre

In these centers, Khenpo Kunchok Gyaltsen will conduct various activities such as Dharma talks and sadhana practices and pujas.
Maratika Cave, May 2014
On 8 May HE Luding Khenpo, together with Jhampa Losal, Lama Tenpa and Lama Jamyang Kedup, travelled to Maratika cave, Halesa, Khothang, Sagarmatha, Nepal, which is about a 12-hour journey from Kathmandu city.
Maratika Cave is an exceptionally holy site as it is where Guru Padmasambhava received imperishable longevity. On 9 May, the 10th of the third month of the lunar calendar, at the main cave Rinpoche and the lamas recited the long life sadhana dedicated to the imperishable long lives of His Holiness the Sakya Trizin, His Eminence Luding Khen Chen, all our gurus and all mother sentient beings.
Rinpoche is seen with all the flying prayer flags on top of Manjushri hill at Mararatika.
Within some of the photos you can still witness the Wrathful Phurpa at Washaa or Ka-gyad cave. There is also a Peaceful Phurpa in the same cave, which Rinpoche and the lamas visited on 9 May. On 10 May in the late evening Rinpoche and all the lamas arrived safely at Kathmandu city. On 13 May Rinpoche and Lama Tenpa arrived in New Delhi by air.
Fire Puja at the SIV, March 2014
On 31 March 2014, the Sakya Institute of Vajrayana (SIV) held the Mahavairocana four directions fire puja. HE Luding Khenpo presided in the west representing the magnetizing aspect, HE Khangsar Shabdrung in the south representing the wrathful aspect, Khenpo Konchok Gyaltsen in the east representing the pacifying aspect and Khenpo Tsega (Palden Zangpo) in the north representing the increasing aspect. Over 90 SIV scholar monks also participated in the fire puja.
The fire rose magnificently to a great height and there were some windy situations however the fire deities were most delightful and supremely contained.
May all obstacles be dispelled, may all purity prevail for the longevity of our kind teachers to flourish the Buddhadharma and may all be happy in mind and dwell in equanimity.
Interviews with Monks from the Sakya Institute of Vajrayana, March 2014
The Sakya Institute of Vajrayana is home to monks from a variety of different Himalayan ethnic groups and regions. Several of the monks kindly volunteered their time to discuss their heritage, their current studies and their aspirations once they complete their studies at the Institute.
Interview with HE Khangsar Shabdrung, Assistant Teacher at the SIV, Manduwala - February 2014
At the Sakya Institute of Vajrayana (SIV) HE Khangsar Shabdrung, along with Khenpo Kalsang Gonpo and Tempe Gyaltsen, conduct revision classes for the more junior monks. Within this interview, HE Khangsar Shabdrung discusses the benefits and importance of the revision classes for both the monks and the assistant teachers.
16 Arhat Puja, Bodhgaya, March 2014
Their Eminences Luding Khenchen, Luding Khenpo, Tharste Khenpo and Khangsar Shabdrung conducted a two-day elaborate 16 Arhat puja at the Mahabodhi Stupa, Bodhgaya on 15 and 16 March 2014.
Over 300 Sangha members, made up of senior khenpos and monks from the Sakya Institute of Vajrayana (SIV), Ngor Monastery and other monasteries from India and Nepal and a good number of overseas students, gathered for the puja. The sand mandala and tormas looked grand as did the shrine and all the flowers and foods offerings.
The last day of the puja concluded in the evening and Ngor Monastery decorated the main stupa with garlands of fresh flowers under Bodhi tree. The stupa looked magnificent and outstandingly colourful.
At the conclusion of the puja the full moon was just rising in the distance. Hundreds of khartas were offered to all the Sangha, including Theravadin and Mahayana Sanghas, overseas students and the lay community.
After the conclusion of the 16 Arhat puja, HE Luding Khenchen offered gold to be painted on Tathagata Buddha Shakyamuni's body as well a change of robes for that night and the following morning.
Their Eminences Luding Khenchen, Luding Khenpo, Thartse Khenpo, and Khangsar Shabdrung, and the Sangha members from Ngor Monastery, the SIV, and senior monks from India and Nepal were happy with their efforts and we pray that through their efforts may all the wishes of sentient beings be spontaneously fulfilled.
Please click on the photos below for an enlarged slideshow of the gold offering to Tathagata Buddha Shakyamuni.
Mahakala Puja with His Holiness the Sakya Trizin, Dhurthrod Silwitsal - near Bodhgaya, March 2014
HE Luding Khenpo arrived at Dhurthrod Silwitsal (Cooling Palm Park) Mahakala Place at 7.30am to over see the preparations for the Mahakala puja event. All the monks from Ngor monastery and SIV were in great liveliness for this 5-day puja. Today was such a special occasion as His Holiness the Sakya Trizin, HE Dungsay Ratna Vajra and Gyalyum Chenmo attended Mahakala puja for the day.
At around 9.30am, His Holiness, HE Dungsay Ratna Vajra, Gyalyum Chenmo and HE Luding Khenchen, HE Luding Shabdrung, HE Thartse Khenpo and HE Khangsar Shabdrung arrived at Ghurgyi Gonpo. The puja commenced shortly after His Holiness arrived and finished at around 5:00 pm. Rounds and rounds of mandala, tea and token money offerings were made to His Holiness, Dungsay Ratna Vajra, the heads and Khenpos each Sakya Monastery and Institute as well as all monks and nuns present.
Shortly after lunch, His Holiness gave a precious short Mahakala reading transmission, to which all attendees gave their fullest attention. Offerings were also made by the Sangha to the local Indian community and all participants rejoiced in the auspiciousness of the puja and it was a most joyous day for everyone.
After the completion of the Mahakala puja, HE Luding Khen Chen Rinpoche, HE Luding Khenpo and all the Ngor Monastery and SIV monks will perform the 16 Arhat puja for two days under the Bodhi Tree at the Mahabodhi Stupa, Bodhgaya.
His Holiness the Sakya Trizin Earth Breaking Ceremony, Bodhgaya, March 2014
On the morning of 9 March 2014, His Holiness Sakya Trizin, HE Dungsay Ratna Vajra, Gyalyum Chenmo and entourage, with HE Luding Khenchen, HE Luding Khenpo, HE Luding Shabdrung, HE Thartse Khenpo, HE Khangsar Shabdrung and Khenpos of Sakya College and the Sakya Institute of Vajrayana (SIV) conducted the 16 Arhat Puja in preparation for the Earth Breaking Ceremony. A congregation of nearly 300 monks from Sakya Centre travelling with His Holiness, Ngor Monastery, SIV and also monks and nuns from other Sakya monasteries in India and Nepal, together with students from overseas all participated in the auspicious event.
At the end of the 16 Arhat Puja, His Holiness performed the Earth Breaking Ceremony, making this the most grand and auspicious event at Bodhgaya at the commencement of the Wood Horse Year.
His Holiness the Sakya Trizin arrival in Bodhgaya, March 2014
This afternoon at Bodhgaya airport, HE Luding Khenpo, Thartse Khenpo and Khangsar Shabdrung, together with SIV Khenpos, and many senior Lamas and overseas students welcomed His Holiness the Sakya Trizin, HE Dungsay Ratna Vajra and Gyalyum Chenmo and entourage to Bodhgaya.
At 5:30 pm His Holiness the Sakya Trizin with HE Dungsay Ratna Vajra, Gyalyum Chenmo and HE Luding Khenchen, with over 200 Sakya monks from Ngor Monastery and the Sakya Institute of Vajrayana and a huge crowd of lay community recited the short 16 Arhat puja to praise the Tathagata Buddha Shakyamuni composed by Sakya Pandita under the Bodhi tree of Mahabodhi Stupa. The puja concluded with Samamtabhadra aspiration prayers for the flourishing of the Buddhadhama.
Losar Tashi Delek, 2 March 2014 Bodhgaya Pilgrimage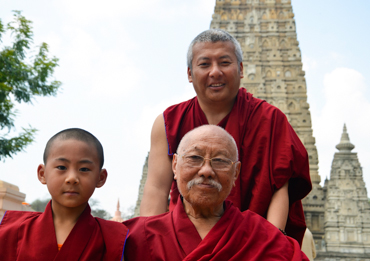 Losar Tashi Delek greetings from Bodhgaya in the Year of the Wood Horse, 2 March 2014.
HE Luding Khenchen, Luding Khenpo and Luding Shabdrung wish you and your loved ones Tibetan Losar Tashi Delek. May this year be the most auspicious year for you, may you be with good health and wealth, may your mind be happy and at ease, may all your Dharmic endeavours be wish fulfilling for all living beings and may peace and harmony prevail in ten directions.
To view a short film of HE Luding Khenchen, Luding Khenpo, Luding Shabdrung and Sangha at Bodhgaya for Tibetan Losar 2014 please click here.
You can also follow us on Facebook for daily updates of the Bodhgaya pilgrimage for 2014.
Whitie Tara Initiation & Teaching by HE Luding Khen Chen, 2014 Bodhgaya Pilgrimage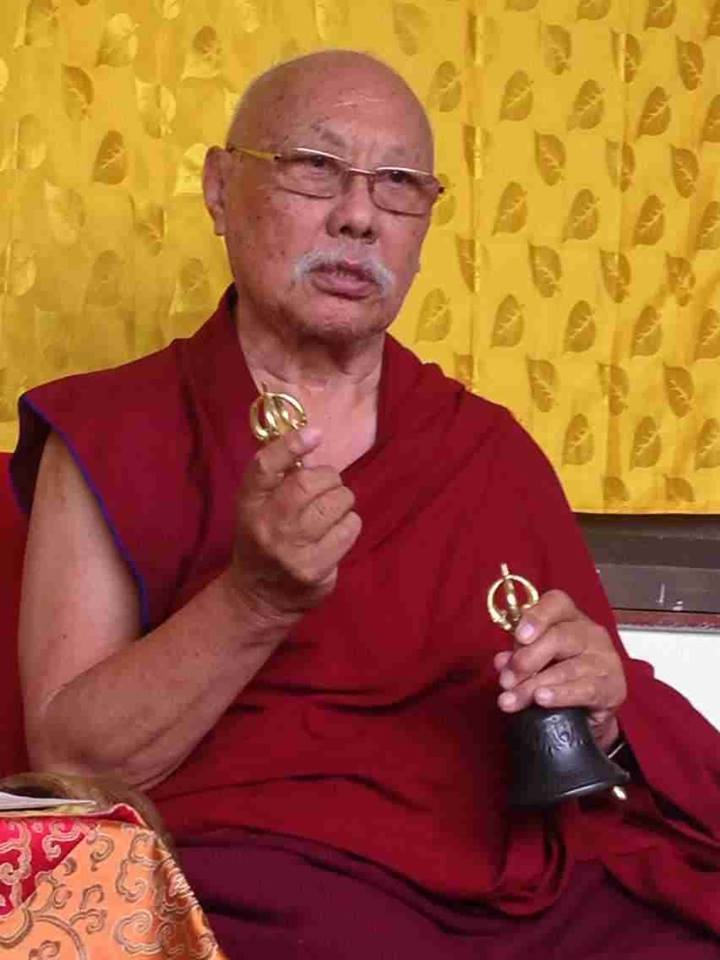 On the 3rd day of Losar, 4 March 2014, HE Luding Khenchen gave the White Tara Initiation in the courtyard of his Bodhgaya residence.
Despite the short notice, it was well attended by over 70 monks and nuns and some overseas students from Taiwan, Singapore, Malaysia, China, Australia, and the lay Tibetan community.
Everyone felt extremely fortunate and rejoiced in the opportunity of recieving the White Tara Initiation from His Eminence especially at Bodhgaya.
His Eminence also gave a short teaching on the importance of pure vision and motivation while on pilgrimage at Bodhgaya the supreme place where Buddha attained perfect awakening.
His Eminence stressed that making any offering to Buddha with pure vision and unconditionally means that all offerings are made without any personal gain in return now or in the future. Rinpoche also said that this place Bodhgaya is a holy pilgrimage site and not a holiday place.
While we are here at Bodhgaya, we need to practice with genuine motivation in mind, thought and action, and of all these without any personal gain, but rather for the benefit of all sentient beings as we have often recited in our dedication prayers.
Furthermore, while you physically sit in the meditative posture looking like Buddha, although the posture and appearance look conducive, if your mind is wondering with mundane thoughts or your personal agenda, or entertaining past, present and future thoughts this is also the wrong motivation. Another wrong physical action is false speech and poor speech to others when they had performed a mistake accidentally.
Making judgements towards others how they dress, how they do their practices is also the wrong view and has nothing to do with yourself, rather you should take a look at yourself, and maintain yourself by checking on yourself just like looking in the mirror from time to time.