Health Care
HE Luding Khenchen Rinpoche's Health Check, May 2013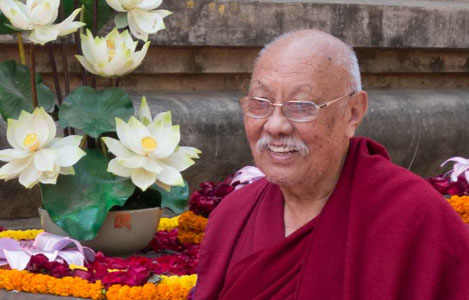 HE Luding Khenchen had his medical check-up in Delhi on 10 May 2013. The full complete check-up was very successful with excellent positive results. Ngor Monastery Sangha and all students continue to pray for His Eminence's good health with happiness and longevity for the benefit of all sentient beings.
Doctor for the Ngor Monastery and the Sakya Institute of Vajrayana
Doctor Lodro Phuntsok comes once a fortnight to treat the medical and health issues of the monks at Ngor Monastery as well as the Sakya Institute of Vajrayana. Doctor Lodro's services are funded by the Luding Foundation.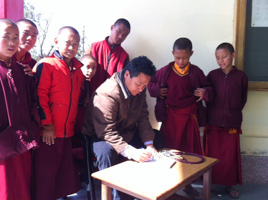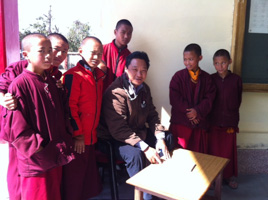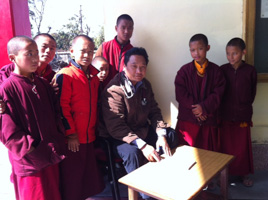 Health Care & Seminar by Rinpoche's students
In March 2013, a registered nurse and devoted Taiwan student of HE Luding Khen Chen Rinpoche provided health care to the Monks of the Ngor E-Wam Chodan Monastery, Manduwala India. Rinpoche's Taiwan student was especially diligent and patient towards the monks and treated all of their ailments.
On 5 March 2013, another devoted Australian student of Rinpoche, who is a registered nurse, conducted a hygiene workshop for all of the monks. The purpose of the workshop was to educate the Monks on proper hygiene practices in order to prevent outbreaks of skin diseases, which are a common problem in the monastic community.
Over 300 monks attended the seminar, which was translated from English into Tibetan. Diagrams, practical demonstrations and humour were all used to convey the importance of proper hygiene practices. The event was enjoyable and informative for all participants.
We would like to send a special thanks to Rinpoche's two students for their efforts.
New Red Beanies for Little Bodhi Seed!
Late last year, an kind Australian lady, Pam, knitted 96 red beanies for the Little Bodhi Seed Monks at Ngor Monastery. The beanies were given to the young monks by their teacher ,who were all very happy and excited with their new hats.
Our Little Bodhi Seed Monks also received their vitamin compound supplements for one month during February 2013.